Outdoor Living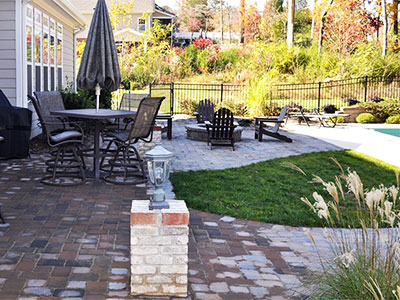 A patio, deck, pergola, gazebo and other features provide great opportunities to use the open spaces of your property more optimally. These outdoor living features are a value-add to your home, but need to be planned &installed well. This makes it important to choose a good landscaping company with expertise in the field.

Companies like Emerald Creek Landscapes, LLC offer Outdoor Living design and installation services to clients across Chattanooga, Hixson, Cleveland, Soddy Daisy, Ooltewah, Collegedale, Signal Mountain, Lookout Mountain, Red Bank and Ringgold, GA. Hiring experts ensures your yard and gardens look impressive and add to the appeal of your home. They offer a variety of outdoor living services such as:


Outdoor Kitchens
This is a very popular outdoor living feature. It can be constructed in any area of the yard or even on a deck or patio. The landscapers that provide kitchen design services will ensure the structure has all the elements & features you need such as, proper movement space, counters, the right flooring and seating spaces as well as room for the appliances intend to place there. Some people may also want a fire pit or fireplace installed in this area.


Outdoor Fireplace
The outdoor areas allow you the flexibility to relax with friends and entertain guests in the comfort of your home. But there are times when the cold weather can make it unpleasant to use these areas optimally. This is where outdoor fireplaces come into the picture. These installations are an excellent addition to a yard. You have the option to get it built on a deck, patio, or any other convenient spot in the landscape. A fire feature adds warmth to the outdoor areas and allows you to use them in a better way. A fireplace can be built using natural stone, brick or concrete, in the styling and design you need.


Fire Pits
A fire feature adds to the warmth and comfort as well as beauty of the outdoor areas of your property. When you get this feature installed in your yard, you'll find that you can utilize these spaces even when there is a chill in the air. Some people don't want elaborate elements like fireplaces, and a fire pit is a great alternative. It's more compact in size, and the landscapers will ensure it's designed to complement your landscaping. You can choose a fire pit made of materials such as concrete blocks, natural stone or classic brick.


Patios
A patio adds to the functionality of your landscape and extends the indoor living areas of your home. You have the option to add custom-designed outdoor furniture to the area or get an outdoor kitchen installed in that pace, If you like, a pergola can be constructed to lend shade to the patio and you can also consider getting shade sails installed on it. This spot, when designed with attention to detail, can blend in perfectly with the indoor and outdoor areas of your home.

When you want outdoor living spaces that are resilient, functional and sustainable, it's a good idea to contact companies like Emerald Creek Landscapes, LLC. They will ensure you have the kind of outdoor spaces that meet your needs, last for years and add to the value and curb appeal of your property.

"MORE ARTICLES"
Pavers
Paver Installations
Landscape Contractors