Sidewalks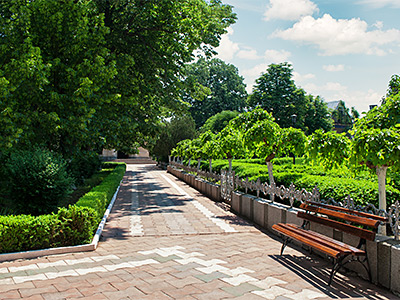 When you live in a residential neighborhood it's very likely that you have sidewalks running along the periphery of your front yard. But some neighborhoods don't have them and you may want to consider getting these added to your property. A sidewalk allows people walking past to be at a safe distance from the traffic and it's important to have a broad paved sidewalk so at least two adults can walk comfortably side-by-side.

We at Emerald Creek Landscapes, LLC are a well-established company in the landscaping field and have been serving customers in Ringgold, East Brainerd, and Fort Oglethorpe. Our experts have successfully completed a large number of sidewalk design and installation projects across East Ridge, Dalton, Chattanooga and Red Bank as well. We have also catered to customers in Middle Valley, Cleveland, Soddy-Daisy, Calhoun and the surrounding areas and created beautiful sidewalks along the front yards on their properties.


Custom Sidewalk Design
A typical builder or city-installed sidewalk will run along the perimeter of your entire front yard; there would also be some planting space between the sidewalk and the curb, this is referred to as the planting strip. If your home doesn't have any sidewalks, it gives you more design flexibility.

A sidewalk isn't just a concrete path that's built alongside a landscaped area. It's almost integral to the design and planning of the outdoor areas of a residential property. As a matter of fact, if you have lawns and flower beds in your front yard and want to ensure that they aren't trampled upon and damaged, you need to get concrete sidewalks installed.

When we handle sidewalk construction for you, our experts take the time to understand what your specific requirements are; we can provide custom sidewalk design solutions such as a curving sidewalk or even one made using interesting materials such as natural stone slabs or aggregates etc. In short, your sidewalk can be as elaborate or simplistic as you want it to be.


Sidewalk Planning - Aspects to Consider
There are a number of different aspects that have to be taken into account while creating sidewalk plans such as:


The size of the area to be covered
Width of the space to be paved
Position of planter strips
Location of the other hardscaping elements
The material to be used
Type of border/edging to be used
Other
Different Types of Sidewalk Materials
When our expert sidewalk designers discuss the plans, materials, and design of the feature, they make sure that the recommendations they provide complement the design of the overall front yard. The different types of materials that can be used include:


Natural stone, concrete or brick pavers
Crushed stone
Concrete blocks
Aggregates and concrete
Granite squares
Large natural stone sidewalk paving

The sidewalks that we design and install along the periphery of your front yard will be resilient, functional and will add to the curb appeal of your home.

With the vast experience and expertise we have developed over the years, we know what it takes to provide excellent solutions at very competitive sidewalk cost. For any more information on our services or to discuss your project details, feel free to call Emerald Creek Landscapes, LLC at 423-593-5443. You can also send us your queries and project details via this online form.